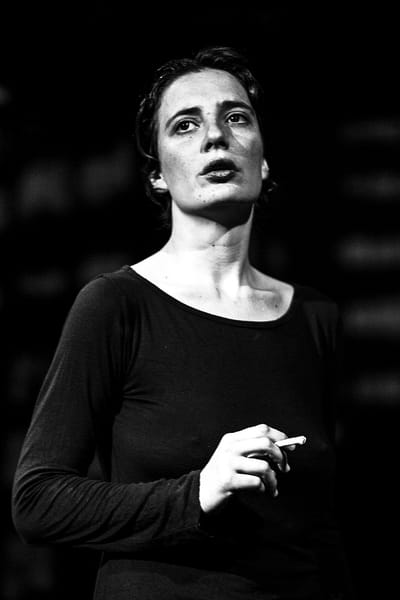 Sissy Doutsiou
is an actress based in Athens. Most recently she can be found in the theatrical play Metamorphosis by Franz Kafka playing the protagonist role Gregory Samsa. Her performance characterized by The Franz Kafka Society from Prague with the following statement "The best Metamorphosis that we have ever seen. Kafka would love Sissy Doutsiou as Gregory Samsa." And by the president of Theater Critiques Association in Greece "Sissy Doutsiou gives a real recital of the whole physical approach of the suffering and crucified human, reaching the limits of acting self-sacrifice, not even hesitating to "crumple" herself brutally." Sissy has played roles from Jean Genet to Bertolt Brecht, working in major Greek and Cyprian repertory theaters. She has focused in Theater in Yer Face between others 4.48 Psychosis by Sarah Kane, one of her iconic monologues.
She received her Bsc in Astrophysics at the University of Sussex and she graduated from the established Delos Drama School in 2009 training by important awarded actors. She continued her training in acting with workshops by Natalie Portman and Helen Mirren. Lessons with David Lynch, Martin Scorsese and Spike Lee highly upskilled herself on creativity and cinematography.
Doutsiou started teaching acting based on her technique, experience and inspired by her travelling and research in Indonesia, India and Mexico. She released the spoken word single "Paid Rape" and she starred in the same track video poem projected in the European Poetry Platform Versopolis. She cooperates with the essential international NettNettRadio (Sonic Liberation Front) with her limited appearances reading poetry and rare theatre monologues. She has published four critical acclaimed poetry collections and the compilation of erotic and political short stories "The Voyeur".
She is a founding member of the Institute for Experimental Arts and curator of the annual International Video Poetry Festival in Athens. She toured with plays, poetry readings, performances and lectures in Europe, US and Asia. She has performed between others in City Judson Memorial Church (New York), London School of Economics and Political Sciences and at the1st Biennial Destroy Athens. She has collaborated with many theaters and organizations as the American company Living Theatre and the Institute for Experimental Theatre in Calcutta.
Significant meetings with people as Suprijo Samjadar (Grotowski Theater), world known anthropologist David Graeber, Nanos Valoritis (surrealist poet, friend of André Breton) and Jeffrey Perkins from Fluxus art group have influenced her work and career. She is married with Tasos Sagris, a well known theater director, activist and writer. She introduced her in the Void Network Collective and to the self organized theatre Embros.