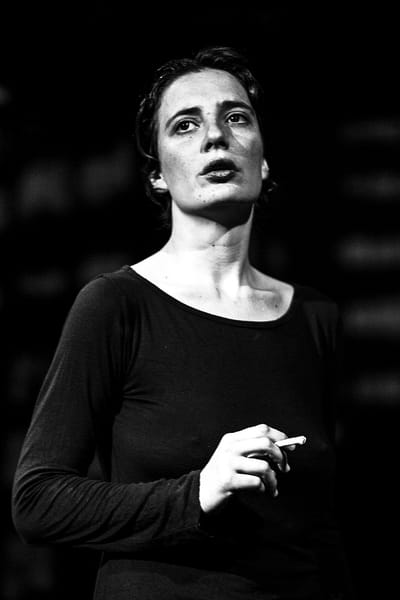 Sissy Doutsiou
is an actress and poet. She was born in Athens in 1980. She studied Astrophysics at the University of Sussex in Brighton (UK). She graduated from Delos Drama School in 2009. She is a founding member of the Institute of Experimental Arts and curator of the annual International VideoPoetry Festival in Athens. She toured with plays, poetry readings, performances and lectures in Europe, USA, Mexico, India and Nepal.
She starred in theatrical performances (between others): "Metamorphosis" F. Kafka, "The Maids" G. Zene, " 4.48 Psychosis" Sarah Kane.She has designed acting seminars to educate people in modern theater and performance. She has collaborated with many theaters and organizations in Europe, USA and Asia as the American company Living Theatre and the Institute for Experimental Theatre in Calcutta (India).
Her poems can be found in "Anthology of Modern Greek Poetry: 1550-2017" Ekstasis Editions, Canada 2018. "Mythological Monsters" is her fifth book. Also published by Kenotita publications: "Insult of Public Modesty" in which Nanos Valaoritis introduced her in the Greek poetry community, "Glory Days", "Oh!Occult", "The Voyeur".
She has participated in international exhibitions and festivals (between others): International Poetry Festival (LSE London, 2018), City After Eight Conference Berlin (2019), Total Freedom Festival Calcutta India (2012), A Film Festival New York (2010), University of California Berkeley (2010), 1st Biennial Destroy Athens (2007), Benaki Museum (2005).